We are thrilled to share the news that ECOncrete's co-founders and co-innovators Ido Sella and the late Shimrit Perkol-Finkel are nominated by the European Patent Office (EPO) for the European Inventor Award 2022.
The award is one of Europe's most prestigious innovation prizes. Launched by the European Patent Office (EPO) in 2006, it honors individuals and teams behind solutions tackling some of the biggest challenges of our times.
Ido and Shimrit's invention, 'concrete technology to encourage marine biodiversity,' was judged by a panel of former award winners based on its contribution toward technical progress, social and sustainable development and economic prosperity.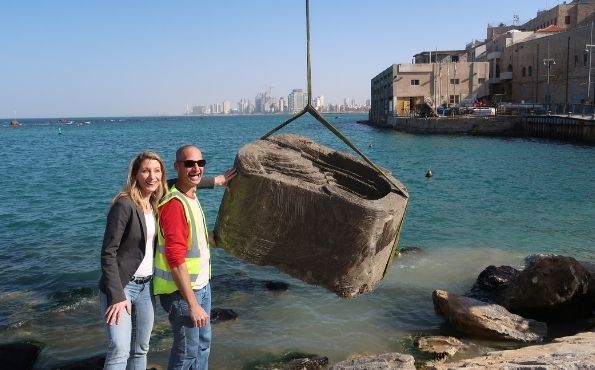 The EPO's recognition of ECOncrete®'s invention not only reflects its revolutionary properties among a mission-critical net zero market; importantly, it also evidences growing global awareness about subsea innovations capable of protecting our oceanic ecosystems through nature-inspired, biomimetic design.
"Through research and innovation, Sella and Perkol-Finkel have transformed a standard construction material into a shelter for marine life," says EPO President António Campinos, announcing the European Inventor Award 2022 finalists. "as marine construction is a growing sector, this invention has the potential to make a wide impact and improve the industry's environmental footprint on a global scale."
Ido Sella said in a short statement: "I just wish Shimrit was here with us to see the appreciation our innovation and technology is receiving – especially now in a time when the world needs sustainable marine construction technology more than ever.
Shimrit and I had been studying the impact of coastal infrastructure on the marine ecosystem, and searching for a solution since we were students, and it was her main focus until the last day when she left the office.
The nomination is a great honor. We thank the EPO and the jury for selecting our technology. Congratulations to the other nominees and their groundbreaking work!"
Official Website 'European Inventor Award' >>