We are proud to be among the esteemed group to be presenting at the second annual Monaco Smart & Sustainable Marina conference. ECOncrete's technology will be showcased to a network of entrepreneurs, investors and public authorities. The goal of the initiative and conference is to exhibit innovations, particularly in marina, water management and coastal infrastructure industries.
Last year's inaugural marina conference was a success, with 55 startups in attendance, hailing from 30 countries. Industry representatives contributed as well, and 160 live virtual meetings took place. This year, Monaco Smart & Sustainable Marina will be held again at the prestigious Yacht Club de Monaco and will host 50 startups, in addition to marina owners and developers.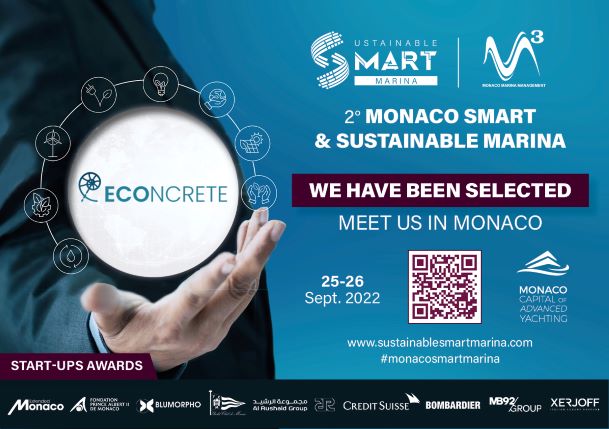 As a center of the marina industry, Monaco is emphasizing the innovation of effective, user-friendly and environmentally conscious marinas. This event will allow top designers in the field to present their ideas and inventions.
Along with the conference, ECOncrete will be featured in an exclusive e-catalogue that highlights 50 startups worldwide. The program itself includes lectures, workshops and demonstrations, in addition to an award ceremony.
ECOncrete's bio-enhancing technology proves itself already in marine infrastructure projects around the world. As a recent example, a vertical breakwater enhanced with ECOncrete technology was installed in the IGY Malaga Marina in Spain. Thanks to ECOncrete, the new marina infrastructure encourages (rather than discourages) aquatic life to thrive and enhances biodiversity, enabling important ecosystem services, while at the same time strengthening the structure.
The Monaco Smart & Sustainable Marina conference will be a two-day forum on September 25-26, 2022. We look forward to attending, presenting, and meeting likeminded innovators and project owners sharing our mission: to enable necessary concrete construction in a responsible and sustainable way – in harmony with the environment.
Further reading: